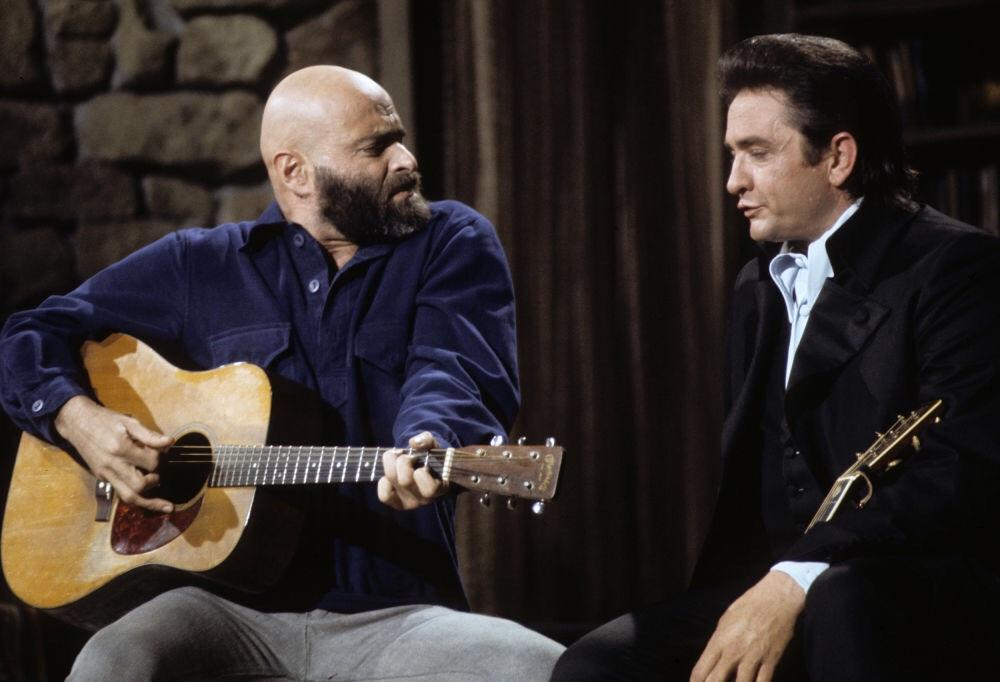 "A Boy Named Sue" is one of Johnny Cash's most recognizable songs, but who wrote it might surprise you.
In 1969, it was a guitar pull – a get together where songwriters try out new songs – that brought together Cash and renowned children's book author Shel Silverstein. The guest list for the gathering also included Bob Dylan and Joni Mitchell, but it was Silverstein who shined with his song which centered around a man named Sue, whose long-sought revenge on his father for giving him a girl's name ends in a bar fight and ultimately understanding (1, 4).
The song might seem a far cry Silverstein's poetry and prose for young readers, but his career extended far beyond his well-known books "The Giving Tree" and "Where the Sidewalk Ends"; he was also a talented cartoonist, playwright, recording artist, and songwriter, even having won a Grammy Award and been nominated for an Oscar (2, 3).
Silverstein debuted "A Boy Named Sue" just a week before Cash was set to perform at San Quentin Prison in California (5). At the performance, Cash sang many of his classic hits including "I Walk the Line" and "Ring of Fire," but it was his wife June Carter who encouraged him to try out Silverstein's song. Not knowing the lyrics, Cash read them off a piece of paper, laughing along with his audience. The song was an instant hit, climbing to number two on the charts for three weeks (2), and among the many places where Cash would perform the song were at the White House for President Nixon and on the The Johnny Cash show, when Cash played alongside Silverstein himself.
Nearly 50 years after it was first sung, the song continues to reach new audiences today through covers by artists like Miley Cyrus and Chris Janson. It even inspired a book called A Boy Named Sue: Gender and Country Music (6).
To hear "A Boy Named Sue" live on stage this summer, come see Ring of Fire: The Music of Johnny Cash at theREP through August 12th.
1 Betts, S. (2016, March 11). Flashback: Cash, Silverstein Sing 'A Boy Named Sue'. Retrieved from https://www.rollingstone.com/music/videos/flashback-johnny-cash-shel-silverstein-sing-a-boy-named-sue-20160311
2 Poet: Shel Silverstein. (2016, August 24). Retrieved from https://www.poets.org/poetsorg/poet/shel-silverstei
3 Shel Silverstein. (2015, September 12). Retrieved from http://www.newworldencyclopedia.org/entry/Shel_Silverstein
4 Silverstein, S. (n.d.). A Boy Named Sue – Poem by Shel Silverstein. Retrieved from http://famouspoetsandpoems.com/poets/shel_silverstein/poems/14827
5 Demain, B. (2012, February 26). Johnny Cash's "A Boy Named Sue" Was Written by Shel Silverstein. Retrieved from http://mentalfloss.com/article/30082/johnny-cashs-boy-named-sue-was-written-shel-silverstein
6 Buchard, J. (2018, May 04). The Surprising Story Behind Johnny Cash's 'A Boy Named Sue'. Retrieved from http://www.wideopencountry.com/the-story-behind-johnny-cashs-most-famous-story-song-a-boy-named-sue/