NYE Pretty Much the Best Comedy Show at theREP
Meet the Cast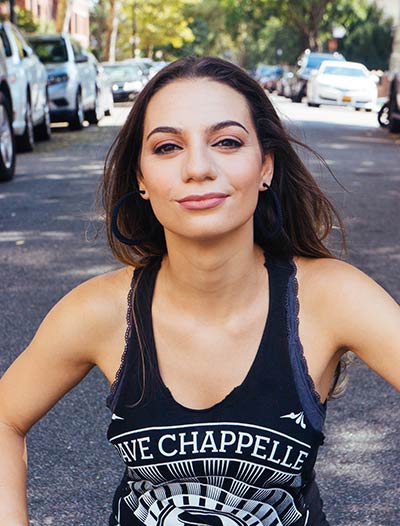 Liz Miele
headliner
Liz Miele, originally from New Jersey, started doing stand-up at 16 in New York City. At 18 she was profiled in The New Yorker Magazine, at 22 she appeared on Comedy Central's "Live at Gotham." She recently appeared on AXS TV's "Gotham Comedy Live," Hulu's "Coming to the Stage" and Fox's "Laughs." She's also a regular panelist on Fox's "Redeye." She's been profiled in Runner's World, Huffington Post, Psychology Today, and The Guardian.
Liz regularly tours with Armed Forces Entertainment and just finished performing on a book tour for Chris McDougall, author of "Born to Run." She's completed six European tours performing in UK, Spain, Italy, Denmark, Sweden, Norway, Switzerland, Poland, Holland, Luxembourg, Belgium, Ireland and Finland.
Her joke "Feminist Sex positions" went viral both on YouTube and Upworthy.com. She just completed writing and producing season one of her animated web series "Damaged," voiced by great comics including, Maz Jobrani, Hari Kondabolu, Ted Alexandro, Dean Edwards, DC Benny, Joe Machi and so many more. She also co-produced and co-starred in 40 episodes of a web series called "Apt C3" with fellow comic, Carmen Lynch and fashion photographer, Chris Vongsawat. Liz's albums "Emotionally Exhausting" and "Mind Over Melee" are on iTunes and Amazon and regularly play on Sirius/XM. For more info visit her web site: www.lizmiele.com.
Click to read more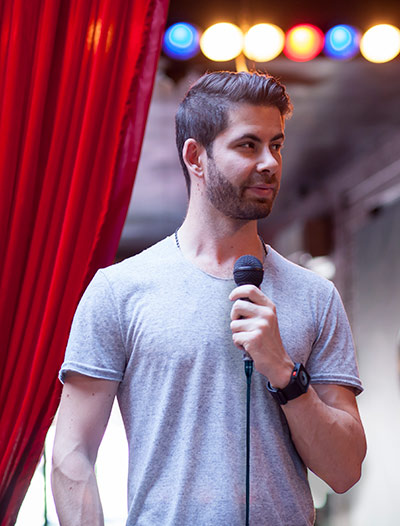 Justin Herman
featured act
With a family spread across two continents and a career as a globe trotting television producer, Justin brings a unique international perspective to stand up through which he can talk about himself, the world and why he'd rather go to prison in Norway than live in Staten Island.
In addition to performing at clubs, theaters and festivals across the US, Justin has toured South Africa, Norway, Sweden, Finland, Germany, Ireland, Australia and Estonia. His television credits include BET, Travel Channel and Discovery ID.
Justin has written, directed and produced for networks including Comedy Central and TruTV. A documentary series he directed and produced will air this winter on MSNBC, which explores how America's counterculture and evolving media landscapes have influenced Presidential elections. Currently he's a supervising producer on the sketch comedy & variety show '50 Central" for BET, hosted and Executive Produced by 50 Cent.
Whether he's discussing international affairs or that time he accidentally went on a date with a man in India, you're guaranteed a unique voice and sentences that end with strong punctuation?
Click to read more
Personal Responsibility Statement: Proctors prides itself on offering a diverse selection of arts entertainment. Not all productions may appeal to or be appropriate for every person or for all ages. Patrons are encouraged to familiarize themselves with the shows we offer in order to make informed decisions prior to purchasing tickets.